WE SERVE HEALTHCARE PROFESSIONALS & ORGANIZATIONS
MEDLERN B2C STORE FOR HEALTHCARE PROFESSIONALS
MedLern is a platform that enables healthcare professionals to register and take up courses which help them progress in their career. Our objective is to make training opportunities easily accessible to all the healthcare professionals and enable them to learn at their own pace.
MedLern is designed to help healthcare professionals at all experience levels learn more about solutions that help anticipate, adapt and react to patient needs. With have a wide range of courses focused on Healthcare, Compliance, Soft Skills, NABH, Induction and Nurse's Continuous Professional Development with tailored curriculum offered online, we are dedicated to helping you focus on deepening your expertise and improving patient care.
MEDLERN B2B PLATFORM FOR HEALTHCARE ORGANISATIONS
We are driven by the idea that with the right compliance and training tools, every healthcare organization can streamline hospital workflows and focus on what matters the most: its patients.
MedLern is here to provide your staff with effective and scalable training round-the-clock. It will help your staff train and learn whenever and wherever at their own pace.
By using MedLern, you gain access to our wide range of training course offerings. In addition, you can supplement them with information that makes the courses more specific to your organization allowing your staff to constantly refresh their knowledge and update their skills. The courses are automatically tracked to help monitor the progress of all employees to lessen effort and cost of your organization.
MedLern integrated platform designed for your healthcare organization that can help you to efficiently handle:
Staff Productivity | Talent & Training Management | Professional Development | Compliance
QUALITY COMPLIANCE MODULES
MedLern Compliance Course Modules cover all aspects of training as advocated by NABH. These courses are developed in consultation with subject matter experts and are designed to meet continuing education and compliance needs of healthcare staff.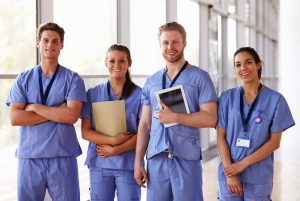 HEALTHCARE COURSES
MedLern offers a wide range of courses from clinical, non-clinical, operations and hospital administration topics to fast track career growth.
SOFT SKILLS, HEALTH SAFETY & WELL-BEING
Equip your staff with the right skills and confidence to handle all kinds of challenges at the workplace. These courses are developed keeping in mind safety, physical and mental well-being of healthcare professionals.
LEADERSHIP AND MANAGEMENT
Elevate your hospital staff and develop leadership competencies. These courses will help them learn to lead in an evolving healthcare environment.
INDUCTION TRAINING
Induction Training modules are designed to provide core mandatory training and gives the staff, practical information they need to help them make a smooth transition to organizational  practices.
RCNi CONTINUOUS PROFESSIONAL DEVELOPMENT PROGRAMME FOR NURSES
MedLern has collaborated with RCNi (A subsidiary of Royal College of Nursing, UK) to bring evidence-based and peer-reviewed courseware that  promotes best practices in nursing care. On completion of courses get a certificate accredited by RCN – Royal College of Nursing, UK.
To view our complete course library
OUR PARTNERS
We have partnered with some of the leading content providers in the industry who are as committed as we are for developing solutions that will help the healthcare organizations and the staff.