Register for the webinar Today!
focusing on the vital elements of NABH 5th edition. Our speaker Elizabeth Johnsen will share her expert inputs on the importance of the chapters, standards, implementation and audit of NABH for hospitals.
The webinar is relevant to Hospital Administrators, Quality Managers, Nurses, Nursing Students, Physicians and Allied healthcare professionals.
Brief about NABH 5th Edition
Why hospital should go for NABH
What is the Focus of NABH
What is the benefit of patients, staffs and organization
How many chapters, standards, OE and how it is organized
Level of OE
Audit and scoring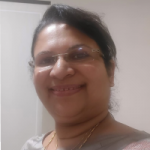 Elizabeth Johnsen
Medical Safety officer, Sakra World Hospita
Recipient of the prestigious Karnataka State Florence Nightingale Award 2014 as Best Assistant Nursing Superintendent, Elizabeth Johnsen has over 30 years of experience in nursing and midwifery. She has worked in many leadership roles as Nursing Supervisor, Clinical Educator, Nursing Superintendent and Chief of Nursing Services for prestigious Columbia Asia Hospital, Bangalore, Mahaveer Jain Vivus Heart Centre, Bangalore. She worked as the Nursing Director in ISIS Medicare and Research Centre, Chief of Nursing in Fortis hospital Sheshadripuram, Assistant Nursing Superintendent in Sakra World Hospital, Assistant General Manager of Quality and Patient safety, Sakra World Hospital.